State prosecutors in Nicaragua have ordered the arrest of award-winning novelist Sergio Ramírez.
Mr Ramírez, who won Spain's Cervantes Prize for literature in 2017, is one of Nicaragua's foremost writers.
He has been accused of inciting hatred and conspiring to destabilise Nicaragua.
Dozens of influential Nicaraguans have already been detained on similar charges as part of a crackdown on critics of President Daniel Ortega.
Among those detained are several presidential hopefuls, union leaders and newspaper editors.
The 78-year-old novelist, who left Nicaragua in June, responded defiantly to the arrest order issued against him.https://buy.tinypass.com/checkout/template/cacheableShow?aid=tYOkq7qlAI&templateId=OTBYI8Q89QWC&templateVariantId=OTV0YFYSXVQWV&offerId=fakeOfferId&experienceId=EXAWX60BX4NU&iframeId=offer_0e763acc7b457c03340a-0&displayMode=inline&widget=template
Writing on social media, he said words were his only weapons and that he would continue to use them to support freedom and democracy against dictatorship.
Mr Ramírez was once a close ally of President Ortega and served as his vice-president during Mr Ortega's first presidency from 1985 to 1990.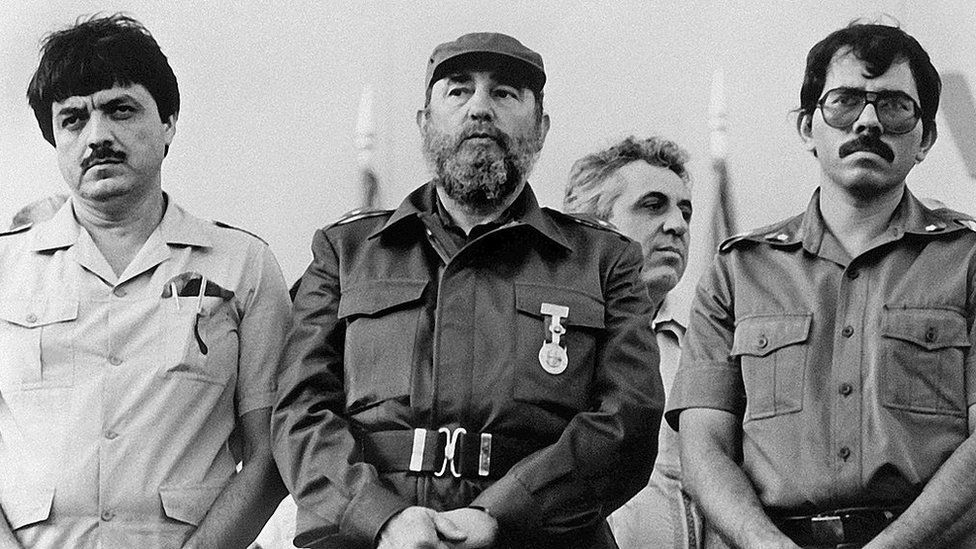 But he broke away from the Ortega-led Sandinista Party in 1995 in protest at what he said were Mr Ortega's "autocratic tendencies".
Has been has been an outspoken critic of Mr Ortega ever since. In an interview with Chilean daily La Tercera in July, he accused President Ortega of "not having limits".
"His strategy is to remain in power at whatever cost," he said of Mr Ortega, who is expected to run for a fifth term in office in elections in November.
The wave of arrests began in June when presidential hopeful Cristiana Chamorro was placed under house arrest and banned from running for office.
Unlike most of the other opposition figures, who have been charged with treason or inciting hatred, Ms Chamorro was accused of using a foundation she ran – the Violeta Barrios Chamorro Foundation – to launder money.
Prosecutors say Mr Ramírez received money from the Violeta Barrios Chamorro Foundation as well as another cultural organisation, which is also accused of "destabilising" Nicaragua.
Critics of the government say the arrests are a deliberate strategy to thin out the field of presidential candidates ahead of November's election but the government says it is taking decisive action against "the enemies of Nicaragua" who, they say, are in the pay of the US.