When Muffet McGraw first saw Skylar Diggins-Smith play, she knew the point guard would be the first high school freshman she ever offered a scholarship.
"This kid is gonna be special," McGraw, who was Notre Dame's women's college basketball coach at the time, remembers thinking. "And a lot of it was her presence. We met on campus, right before her freshman year and we talked about things that seemed so mature to me. And then on the court, I think I'd met my match in terms of the most competitive person I ever had."
McGraw was right.
Diggins-Smith went on to become one of the most decorated players in Fighting Irish basketball history. As the team's point guard from 2009-13, she reestablished Notre Dame as a national contender, guiding the Irish to their first Final Four in 10 years. Diggins-Smith was a three-time All-American who steered Notre Dame to two straight trips to the national championship game. Her never-waning confidence and clutch play not only propelled the Irish to stand toe-to-toe with perennial power UConn, the rivalry became the best in women's college basketball and helped transform the Big East into the sport's best conference.
"She changed [the] program," said McGraw, who retired from coaching Notre Dame in 2020 after 32 seasons. "She changed our culture."
And more program-changing guards followed. Jewell Loyd arrived in 2012. Arike Ogunbowale showed up in 2015. Jackie Young in 2016. Suddenly a program that won its lone NCAA title behind All-American center Ruth Riley became known for its dynamic backcourt talent. And in 2018, Ogunbowale and Young helped guide Notre Dame to its second national championship.
Riley, who played for USA Basketball's gold-medal winning team in the 2004 Athens Games, had long been Notre Dame's lone Olympian in women's hoops. But this month at the Tokyo Games, USA Basketball has a heavy Notre Dame influence. Diggins-Smith and Loyd are making their Olympic debut as the women's 5-on-5 team seeks its seventh consecutive Olympic gold medal. Young, meanwhile, has already won gold in Tokyo, helping the U.S. team win the inaugural 3×3 women's tournament.
"To have so many Olympic guards that have gone to this program makes me so proud," current Notre Dame coach Niele Ivey said. "It makes me so happy."
VETERANS SUE BIRD AND DIANA TAURASI remain the starting guards for Team USA and are looking to become the first women's basketball players to win five Olympic gold medals. But Loyd, 27, Young, 23, and Diggins-Smith — who turned 31 on Monday — could be the future of the U.S. women's backcourt.
Loyd started the Olympic opener, a 81-72 victory over Nigeria, as Taurasi made her way back from a hip injury. She has since come off the bench and has totaled 22 points, 11 assists and nine rebounds through three games for the U.S. women, who have yet to look in sync in Tokyo but face Australia on Wednesday (12:40 a.m. ET) in the quarterfinals.
U.S. women's basketball advances to quarterfinals but still isn't in sync at Tokyo Games20hMechelle Voepel
McGraw said Loyd, who like Diggins-Smith helped lead Notre Dame to back-to-back appearances in the NCAA title game, oozed "sheer talent" as a high schooler.
"She was the most talented player we ever got [at Notre Dame]," McGraw said. "She was just gonna step in and be really good."
Loyd left South Bend as the fifth highest scorer in program history and was the No. 1 overall pick of the 2015 WNBA draft. She has won two WNBA titles with the Seattle Storm, and has worked hard to become a threat on both ends of the floor.
"Her growth defensively has been remarkable," said former Storm head coach Dan Hughes, who is an assistant coach on Dawn Staley's Team USA staff in Tokyo. "And she has become a very effective player with and without the ball on the offensive end."
Loyd, who is averaging 17.5 PPG, 4.2 RPG and 4.2 APG this season in the WNBA while shooting career-best 44.4% from the field, acknowledged that collegiate success doesn't necessarily translate to success in the WNBA, though she said playing at Notre Dame helped the transition.
"It's definitely been a journey that is different for a lot of us," Loyd said during Team USA's training camp in Las Vegas last month. "It's kind of come full circle for me, all my hard work through what I was able to do in college, trying to figure out who I am in the league, all of that led up to me being an Olympian."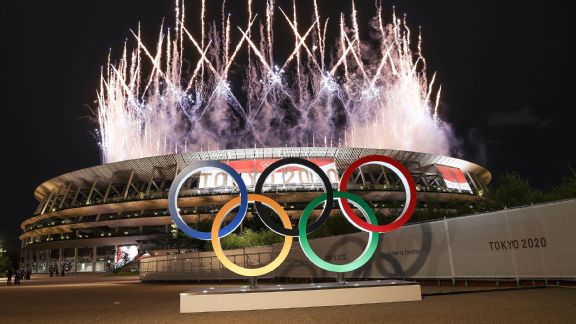 Keep up with the Summer Games in Japan on ESPN: Read more »
• Medal Tracker | Results | Schedule
While Loyd and Diggins-Smith were named to the 5-on-5 U.S. Olympic roster in June, the Las Vegas Aces' Young wasn't expecting to be in Tokyo. The 2019 No. 1 draft pick was vacationing in Florida — the WNBA has paused its season for the Olympic break — when she was named a replacement player for 3×3 team member Katie Lou Samuelson.
"I think [Jackie] was on a beach somewhere 10 days ago, and now she's got a gold medal," U.S. 3×3 coach Kara Lawson said. "She really came through for us. This competition alone is really challenging. But to have really no practices with a player, and then come in and win the tournament … that's not normal. I think it speaks to the players' toughness, their intelligence, their team spirit and their flexibility. Because this tournament demands so much of you."
Diggins-Smith — a five-time WNBA All-Star who is averaging 19.1 PPG this season for the Phoenix Mercury — has seen modest minutes so far at the Tokyo Games, but Staley credited all the U.S. reserves for the role they play in practice and in games.
"I've told our team this: Our second unit, they may not play as many minutes as the first unit, but the preparation they provide for us [helps]," said Staley, who was a point guard on three gold-medal winning teams for USA Basketball. "With Nigeria and Japan, the pressing that we faced, they simulated it incredibly. They made us better on the floor because of their preparation."
Diggins-Smith is in her eighth WNBA season (she missed 2019 after giving birth to her son) and playing some of the best basketball of her career. She is one of the feistiest guards in the WNBA. She's able to effortlessly find an open teammate or attack the basket herself. She's also disruptive defensively, trapping opponents when they have the ball.
How has her game changed since college?
"The best teacher is just experience," Diggins-Smith said.
WHICH NOTRE DAME PLAYER MIGHT HAVE NEXT on the U.S. Olympic team? Ogunbowale scored 26 points and was named MVP of last month's WNBA All-Star Game, when Team WNBA upset Team USA 93-85. She has played in various international events and helped USA Basketball win the gold medal at the 2019 FIBA AmeriCup.
Ogunbowale, 24, led the WNBA in scoring last season at 22.8 PPG and ranks eighth this summer with 18.9 PPG. And the Dallas Wings star long-ago established herself as one of the most clutch shooters in women's basketball.
Shortly after breaking Diggins-Smith's record as the all-time leading scorer at Notre Dame, Ogunbowale made two of the biggest shots in women's Final Four history during the Irish's 2018 national championship run. First, in the semifinals against UConn, she hit the game-winning shot in overtime. Then against Mississippi State in the championship game, her 3-pointer in the final second solidified the biggest comeback in championship game history.
And that, Ivey said, is the Skylar factor — and it has rubbed off on the program.
"She changed the mindset, that level of competitiveness — a level of swag you inherit when you come here," Ivey said. "It's a Notre Dame tradition."